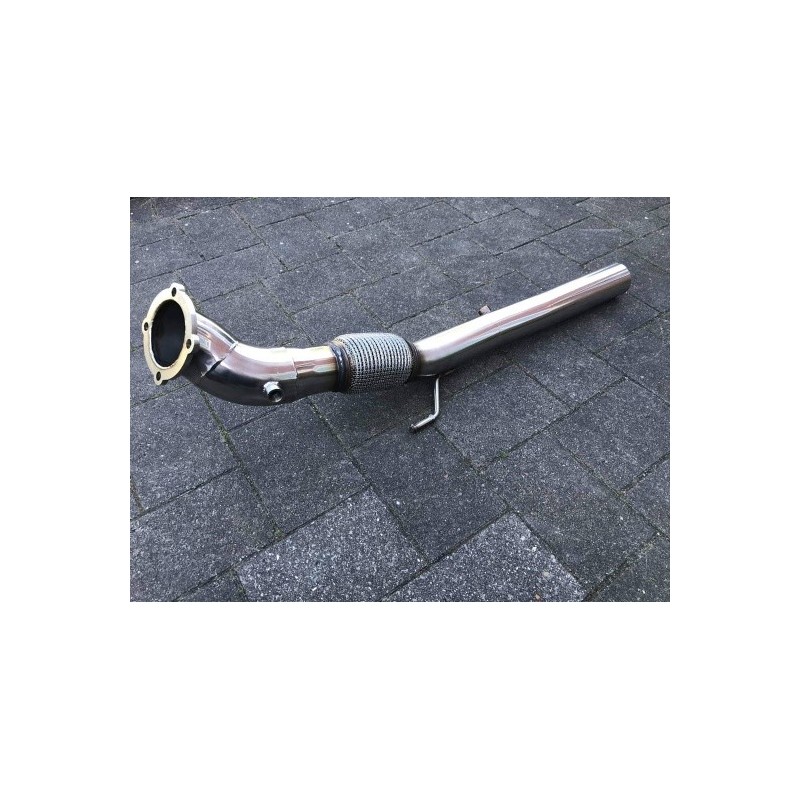  
9n3 Polo Gti and MK4 Ibiza Cupra Downpipe
Downpipe for 9n3 Polo Gti and MK4 Ibiza Cupra
This monster 3.5" downpipe will be the first and last that you'll need to buy for your journey through the k03, to k03s to the mighty Littco L280 and Beach Buggy Turbo BBT-K300 hybrid upgrade route. It starts with 3.5" from the turbo then gently goes to 3" before the flex where it continues in 3" to just under your gear shifter.
9N3/MK4 Ibiza engine mounts are notoriously poor. Even when new, standard mounts allow the engine to move around too much on cars which have been tuned. It's this excessive movement which can substantially shorten the life of the flex. We advise the use of uprated mounts in all cases. Vibratechnic are highly recommended. 
The 2.5" adapter listed in the options works with Milltek 2.5" catback exhausts. Our adapter is 63.4mm OD and slides inside the expanded end of the Milltek. If your aftermarket catback differs from this, you'll need to make your own arrangements or get in touch with us.
If you need a turbo to downpipe gasket, click 

HERE!
Designed, developed and manufactured in England using European stainless steel.
We use heavy industry techniques and machinery to produce our pipework, often making products without any unnecessary welds or joins along the entire length of pipe. As this machinery is computer controlled, consistency is guaranteed, so fitment is assured every time.
Our coded welders are specialists in pipe welding, with many years of experience, so quality reliable welds are assured.
"Buy right. Buy once!
Customers who bought this product also bought: