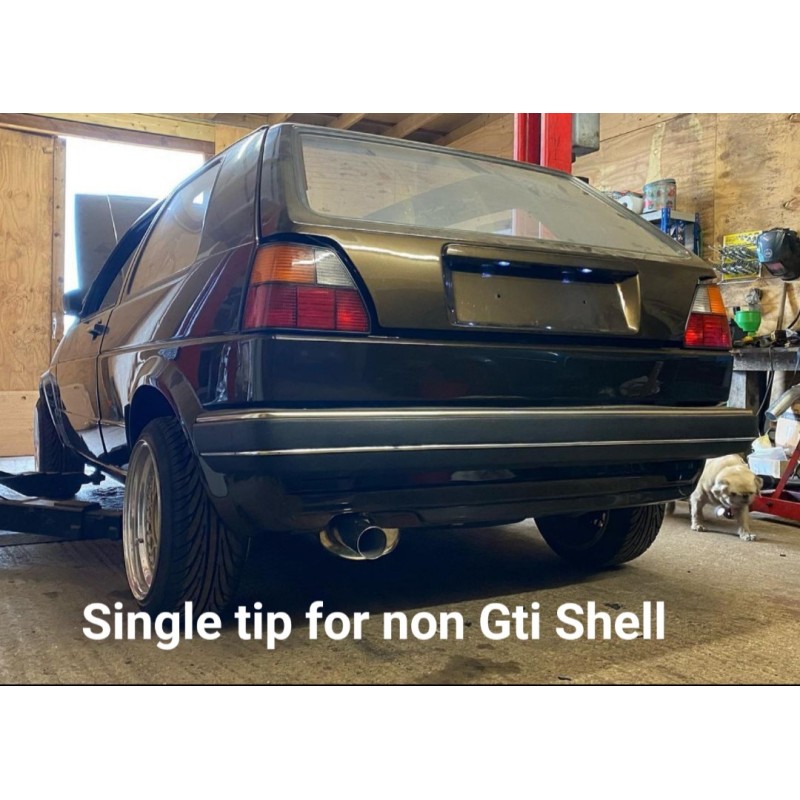  
If you're an international customer, you'll need to log into the website for accurate pricing and shipping costs.
This is the system that we supply to people who race our beloved Mk2 GTi's!
It's pedigree speaks for itself, having taken 1st and 2nd place in class, in it's first year in the Dunlop Mk2 Golf championship, then more recently forging ahead, winning the 8V class in 2016 and 2017 in the Mk2 PGti championship.
Even with the accolades listed above, it's probably the quietest system on the grid, with the 2 silencer version measuring between 85-93db on different cars. It's free flowing nature means that it's quiet at lower revs but when you get further up the rev range, it reminds you that you've bought a performance system!
Here's a video from a customer who was regularly answering the "What does it sound like?" question. Benji did this video of his own volition. Here is a road test with the 2 silencer version.
When ordering, please be sure to select the number of silencers that you're after in the drop down boxes above. The default option is 3.
If you get the 3 silencer version, it will be quieter. We made this to satisfy the needs of people wanting a less shouty road car.
The front end of our system terminates about 20-30mm short of the OEM downpipe , allowing room for an easy hook up with which ever means you decide.
What you'll receive
Exhaust with 2/3 silencers (No downpipe)
Rubber hangers
Gasket and fixings to bolt the two halves of the exhaust together
Additional bolt on hanger.
What will it sound like on your car?
That's something we can't tell you. There are too many variables. Downpipes, manifolds, cams, fuel mixture, etc, etc... 
FAQ's
Q

- Can I just buy a back box and fit it to my existing exhaust?

A

- Only if you already have one our exhausts and just want to change the tailpipe style. It will not be compatible with any other exhaust system. You can't mix and match aftermarket exhausts.
We ship worldwide! Please contact us for a shipping quote if the website doesn't quote for your location at the checkout.
Customers who bought this product also bought: