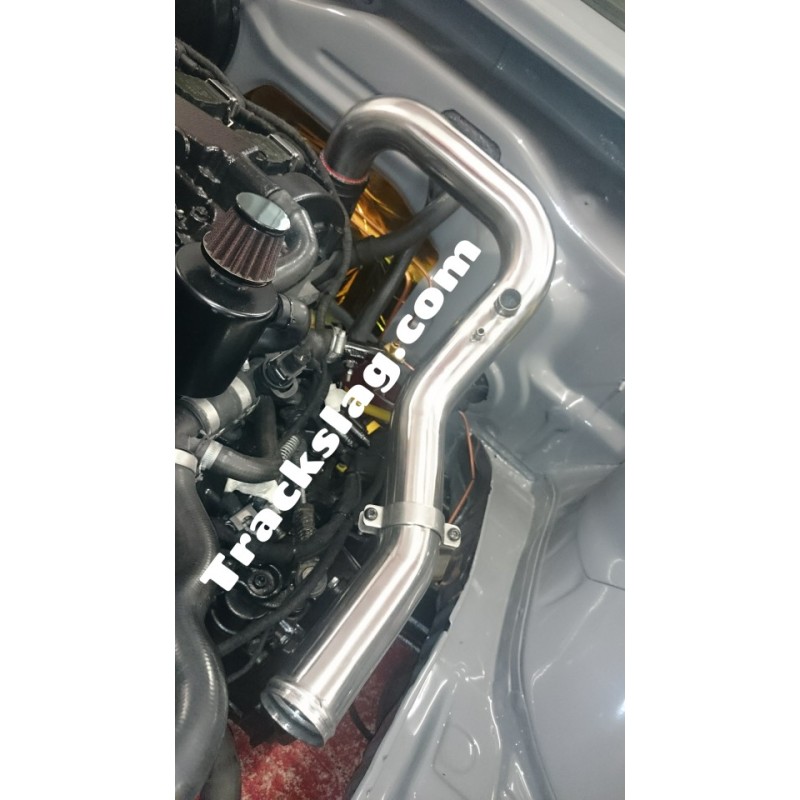  
K03 charge pipe
K03/K03s charge pipe 
This charge pipe is designed for use with a K03/K03s style turbo on a 20v engine with a drivers side throttle body layout in RHD car's only. Made primarily for the conversion market with MK2/Mk3 Golf, Jetta, Vento, Corrado.
The pipe terminates just above the front of the gearbox area, leaving enough room for people to do what is necessary to hook up to their chosen cooler (and position of cooler). We offer this charge pipe in 2.25" (57mm OD) or 2.5" (63.5mm OD). 
This pipe will work best with cars that have the coolant expansion bottle located on the UK drivers side of the bay, however if your's is on the passenger side at the moment, moving the bottle across balances the look of the engine bay, as well as making room for this charge pipe. The best customers for this product are those doing a fresh build, but anyone with a bit of imagination and willing to make it fit should be able to make it work with an existing setup. Unfortunately it's doesn't work with mk1 Golf conversion where the servo is in the factory position.
Whilst we made it work with a standard turbo inlet pipe, there are countless shapes and sizes of aftermarket turbo inlet pipes. Some simply work with this charge pipe, other's need adjustment or a bit of imagination. Some people have turned their turbo inlet pipes into a two piece affair, cutting it half way down the body of the pipe, then using a hose joiner to make it so that the top half of the inlet pipe can be rotated to where you want it to point. 
Also worth mentioning that the turbo outlet position can vary (silenced vs un-silenced), however there should be enough scope for adjustment with the support bracket to cope with this. 
We'll supply a support leg, which when used with one of the original charge pipe brackets (not supplied but the part no. is 06A 145 756) will bolt to the gearbox and support the charge pipe.
You'll also receive a Nomex lined turbo coupler.
Usual Trackslag standards apply!
Non UK buyers please contact us for a shipping quote.
Customers who bought this product also bought: