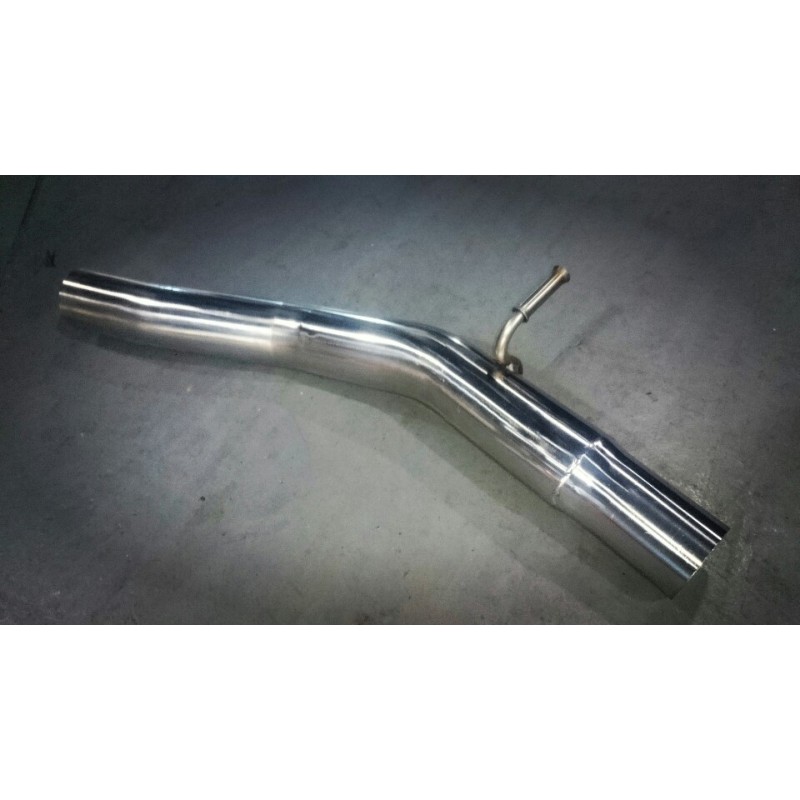  
MK7r / S3 8V/8Y Resonator Delete
Mk7r Golf Resonator Delete (Not for estate cars)
*Not for Estate cars*
We ship worldwide! Please contact us for a shipping quote if you are not on Mainland UK. 
Available for both standard and aftermarket downpipe fitment!
If your car has the factory downpipe fitted you'll need the "Suitable for use with factory downpipe" option. If your car has an aftermarket downpipe fitted you'll need the "Suitable for use with aftermarket downpipe" option.
So, What's the difference? we hear you ask.. Very basically, the factory option is mainly 70mm (2.75") to match the exhaust, whereas the aftermarket option is mainly 76mm (3") to match the downpipe. The afermarket option turns a good proportion of your exhaust into 3"
Why choose the Trackslag delete pipe?
Your factory downpipe is made using 65mm OD pipe and your factory exhaust is made using 70mm pipe. We've made our delete pipe using 70mm (not 63.5mm pipe, as seen in most cases) Most companies won't have access to 70mm tooling, so they'll use 63.5mm pipe and expand the ends. It doesn't take a genius to work out that this will introduce a restriction!
We followed the factory pipe route to ensure proper clearance around the prop-shaft and other components. We also utilised the factory hanger point to make sure that the exhaust is supported as the manufacturer intended.
When you receive your delete pipe, you'll immediately notice that the quality of the product extends to the clamp we supply, which you'll use to make the connection at the exhaust end. In most cases you'll be able to re-use the genuine clamp at the downpipe end. Our delete kit is designed in a way that you can refit the silencer in a matter of minutes, if need be.
Whilst there seems to be many versions of this part for sale, please be aware that they aren't all the same. Treat your car to the pipework it deserves. "Buy right, buy once!"
Customers who bought this product also bought: