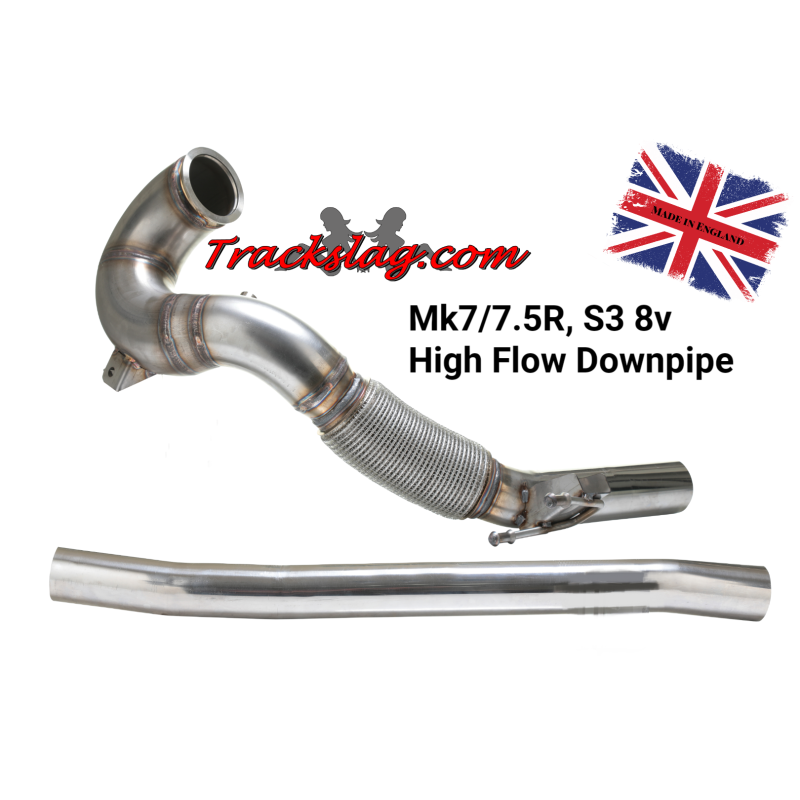  
MQB 4WD High Flow Downpipe
MQB 4WD High Flow Downpipe.
The first and the last downpipe you'll need for your car
**GPF explanation- EURO spec cars 2019MY onward have GPF filters. The rest of the world does not. By selecting the GPF bracket option, you will receive a bracket which will aid fitment. The downpipe will not have GPF temperature sensor bosses. They will need to be mapped out completely**
If you log in and register your address, our website will calculate shipping for most regular destinations worldwide. If our website won't quote you for postage, please contact us for a shipping quote.
Don't be drawn into thinking that we made this solely with the intention of increasing peak power for the hybrid market. This downpipe has been shown to improve spool and give power earlier all the way through the rev range on standard turbos, when tested back to back with other downpipes.
Another benefit to our design is heat management. An easy way to see how much heat your current downpipe is experiencing is to look at the colour. A strong purple/blue will tell you that it's been pretty hot! Apart from the area directly at the outlet of the turbo, our downpipe is mainly a nice rose gold colour. Can you say the same for your's?
We use the OEM style soft flex as standard, removing any risk of the turbo being used as an additional engine mount. We've also utilised the factory downpipe support bracket on the back of the engine block. This was an important thing for us to do, as this will help reduce stresses being transmitted to the turbo and the V band connection. We've heard stories about the V band clamps failing, leaving people stranded with a downpipe dangling. This will not happen with the Trackslag downpipe. 
We use only European stainless steel in our pipework
What we found during development.
Lower exhaust gas temperatures

Earlier turbo spool, giving power earlier and holding this advantage across the rev range

Reduced under bonnet temperatures

Reduced drone
Whilst we've designed our downpipe around you being able to hook it up to the standard factory exhaust with our "OEM adapter" option, you should be aware that we've found that the start position of OEM exhausts can vary a little. It's for this reason that we've given you more length on the downpipe than you'll need. This isn't a fault, it just allows you to trim it to suit your car exactly and takes only a few minutes to do.
Its design allows fitment to cars with completely standard exhausts (with the use of the adapter available separately) and cars with most 3" aftermarket exhausts (adapter also available separately) We've highlighted the 3" adapter option, because whilst we would like to be able to send one adapter to fit all 3" exhausts, it's not that simple. The 3" adapter that we offer works with most of the big brands.   
Unfortunately, we can't cater for all aftermarket connections as there are far too many variables, however if your aftermarket catback was made with the same mindset as Milltek and the other big manufacturers, our 3" extension sleeve may work for you.
*

Adapter note- This is mainly aimed at our friends in the USA. We're finding that some aftermarket exhausts need longer adapters. AWE being one that we know of, so we've added the "Extra long 3" extension" option. This adapter will give most people more length than they need. You just need to trim it it suit.
Please select which option you require at point of order. 
The Catalyst version of downpipe requires stage 2 software due to the position of the catalyst. 
*Whilst we use a Euro 6 certified catalyst in this downpipe, we do not suggest that it is a direct replacement for your factory downpipe and be fully compliant with your local laws. The only truly road legal downpipe for you car is the one which it left the factory with.
You'll notice that we resisted the urge to pacify those who think that the whole downpipe needs to be 4 inch. Whilst originally, the fact that you can't get a proper sized flex in the correct position deterred us, testing with full 4 inch prototypes showed it as being unnecessary. Ever heard the term, Diminishing returns? 
FAQ's 
Q. Will this work with the standard factory turbo?
A. Yes it will. This downpipe will allow the turbo to spool earlier than most standard "Flash" files will be able to cope with. This proves that the downpipe is doing what it was made to do. If your tuner doesn't have the ability to adjust their software, to make the necessary changes to control this, power delivery will be compromised.
Q. Will the catalyst version pass an inspection?
A. It will pass the UK MOT machine sniffer test but it will still need stage 2 software due to it's positioning. The only truly road legal downpipe for you car is the one which it left the factory with. 
Q. What does the de-cat version smell like? 
A. There's no firm way of answering this. Obviously, it smells of combustion gasses produced by a petrol engine but the strength of this smell will depend on how rich the car is running. On the flipside, a catalyst produces gasses and smells of it's own.
Q. Your catalysts are expensive!
A. You really do get what you pay for with catalysts. Our catalysts are made in Italy and we make very little in the re-sale of them. The quality cores of our catalysts are much bigger than most, so they carry much more precious material than smaller catalysts, hence the price. 
Q. Can I fit the de-cat version to a car that hasn't been mapped? 
A. We always recommend that people get their car tuned to match the hardware on the car. Proper tuning will get the best from our downpipe and the other supporting modifications you have on your car. If you drive the car without getting it tuned, the ECU will see an over-fuel condition and the ECU will reduce fueling to compensate, thus causing a lean condition. Some people fit spacers under the sensor to stop this code showing. If you don't have proper equipment to test what you've done, this is just guesswork.
Q. Will the de-cat version of this downpipe spool quicker than the Catalyst version of this downpipe?
A. Direct customer feedback from someone who went from a de-cat, to a catalyst Trackslag downpipe, was that they couldn't see or feel any difference.
Q. Is there a difference in sound between the catalyst and the de-cat versions of this downpipe?
A. The catalyst version doesn't sound as sharp as the de-cat version. The catalyst acts a bit like a silencer.
Q. Do I need to heat wrap or ceramic coat this downpipe?
A. That's entirely up to you. Due to it's size, it runs much cooler than any other downpipe. We do however recommend heat shields where appropriate. Ultimately, we recommend a common sense approach to heat management. 
Q. How much louder than the stock downpipe is it?
A. Whilst our downpipe is so much bigger than standard, it's not so much noisier. In fact, one of the most common pieces of feedback we receive is, how it's quieter than a 3" aftermarket downpipe that it is replacing. Many people are also saying that it's curing drone which was previously present!
Q.Does it fit the standard factory turbo?
A. Yes.
Q. Will it make the standard turbo spool faster?
A. Our downpipe will make all turbos spool quicker but this will be most noticeable on larger hybrids. The car must be tuned to accept this earlier onset of boost.
Q. Will it fit with the aftermarket exhaust that I'm buying?
A. If that Catback exhaust was designed to work with the OEM downpipe, it will work with our downpipe if you choose the appropriate adaptor from the options. That's about the best advice we can give. We kept it simple by making our products work with other OEM parts. If other manufacturers did the same, things will be much easier!
Designed, tested and manufactured in England, using European sourced materials.
Customers who bought this product also bought: