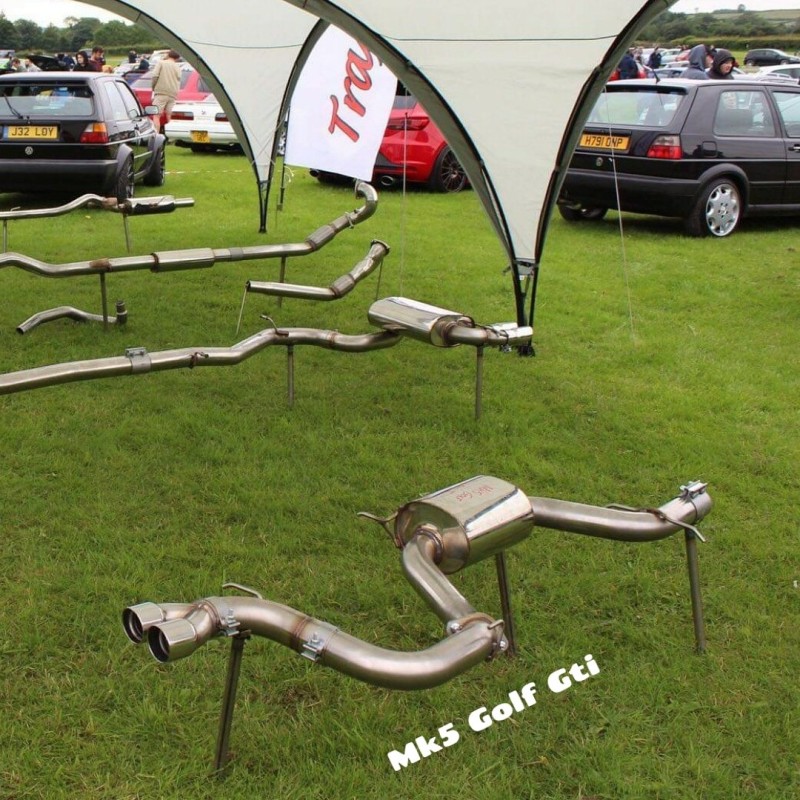  
MK5 Golf Gti exhaust system
MK5 Golf Gti catback exhaust system
MK5 Golf Gti exhaust system. Designed and manufactured in England using polished European sourced stainless steel, this exhaust was built with a race environment in mind.
It's a two piece system, joined with a Tig welded two bolt flange arrangement, ensuring that it if need be, it comes apart as easily as it went on. The only welds along the entire length of the pipe run are the ones at the flanges and the silencers giving optimum flow and reliability.
Our products usually have at least one unique feature. For this, we've designed an additional mounting point which helps keep the exhaust from moving around under G force loading, helping to prevent any annoying knocking or damage. 
We've had this system in testing since early 2014 on a range of different cars. The test vehicles are a factory spec Mk5 Gti, a stage 2 Scirocco and a MK2 Leon Cupra R with a TTE hybrid turbo.
They're surprisingly civilised at low revs, when coupled to the silenced version of our downpipe. If you fit it to a car that doesn't have a centre silencer, it's likely to be quite loud! Here's a video of the exhaust hooked upto the silenced version of our 3.5" downpipe.
We can also supply a couple of different options to make fitting easier. If you want to fit this system to your factory downpipe, we can supply an adapter which will allow you to use the factory clamp. If you already have a 3" downpipe we can supply an adapter which will allow you sleeve onto it.
Customers who bought this product also bought: