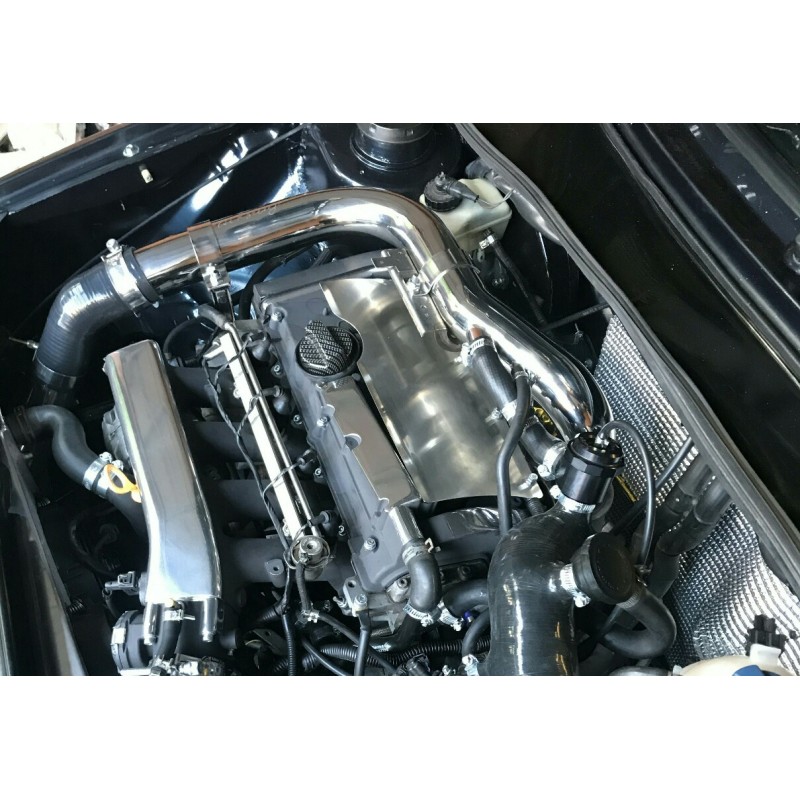  
K03/K03s Charge pipe for passenger facing throttle body
Made for people wanting the k04 look with their K03/k03s setup.
We ship worldwide! Please contact us for a shipping quote if you are not on Mainland UK. 
Following the success of the Trackslag K04 charge pipe we were asked to make one for K03/K03s owners who also wanted the same look and pipework route.
This was designed on a car using the OEM K04 charge pipe support brackets, a passenger facing inlet manifold and fuel rail from a BAM code engine, on an engine which had the non silenced version of the k03s turbo.
We chose the non silenced version of the k03s as it's the best flowing version and the one which the best hybrids use.
The rear bracket was trimmed as shown in the attached picture, to allow for the longer, smoother bend.



If your car has any other version of the k03 turbo, it will move the whole pipe across towards the UK drivers side of the car about 25mm, thus over shooting the support bracket.
You can either bend, space out or rotate the leg of the bracket to compensate.
Anyone unable or unwilling to work with the possibility that your combination of hardware may not match our hard pipe should probably avoid undertaking this modification.
Twin spur is the normal layout but some people may have done a coldside relocation and will know to order the single spur.
In short, twin spur = Dv and boost control (n75) in the normal position.
Single spur for coldside relocation modified cars = one spur for boost control (n75) The spur for the DV isn't there, as you will have moved it elsewhere when doing the relocation.
Finish options explained-
Raw/Basic- Unpolished, straight off the machine with all tooling marks. Suitable for people who want to paint or polish their own.
Shiney- We won't be offering the polished/shiny version unless we can get a consistent, reliable polisher locally. Unfortunately, there aren't enough hours in the day for us to do this in house anymore. 

We recommend that everyone get them polished locally, so they can dictate the standard of finish required.
What you'll receive;
The charge pipe.
One Nomex lined turbo coupler.
Two stainless steel pipe straps.
 Boost control (N75) and Diverter valve hose (if applicable)
Customers who bought this product also bought: