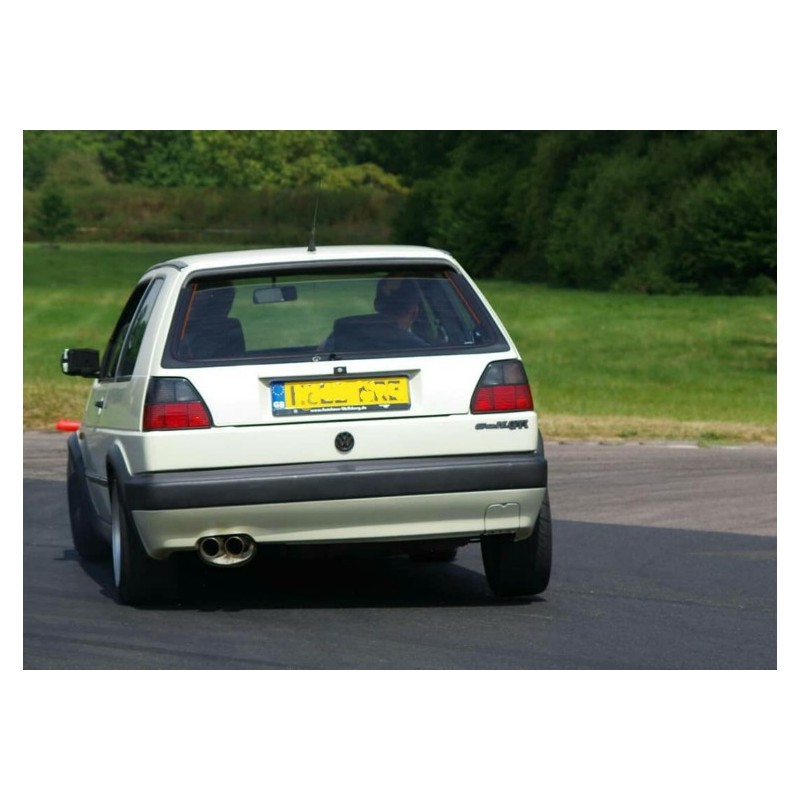  
MK2 Golf 2.5" exhaust system
Mk2 Golf 2.5" exhaust system
(Downpipe not included)
If you log in, our website will calculate shipping for most regular destinations worldwide. If our website won't quote you for postage, please contact us for a shipping quote.
Mk2 Golf 2.5" exhaust system. This system was designed for use with turbo powered cars up to around 250bhp but has measured 350hp with k04 hybrid setups. All this whilst retaining daily comfort, with noise levels as low as 83db on some cars.
It's also ideal for use with 2.8, 2.9 and 3.2 conversions and not only does it open up the potential of these engines, it sounds fantastic too. Here's a little video teaser.
This is the updated version of the system featured in the 2013 December issue of PVW, the same system which is still on the deputy editor's own Vr powered MK2 today.
Since then, we've made alterations so that the tailpipes sit closer to the bumper. We've given you more clearance in the tunnel area, then topped it off by making the entire length of the pipe run weld free (except the 3 silencer version) The best just got better!
This system was designed to fit cars with aftermarket anti roll bars and isn't crushed or flattened to clear the rear beam. If you're worried about clearance, don't. We also supply this system in 3" so 2.5" has plenty of room.
Designed and manufactured in England, it's a two piece system joined by a reliable two bolt flange arrangement. Fully mandrel bent using European stainless steel. Even the silencer boxes are made in house, tailor made to fit the car and do not restrict flow. This is built on the same jig and to the same standards as our championship class winning race system.
The system comes with 4 rubber hangers (3 to use, plus a spare) and our special additional hanger, which bolts to the chassis, near the rear valance.
This exhaust is now available with our new comfort silencer (A.K.A - Street Slut) for people wanting more of an OEM sound. This is aimed at people with naturally aspirated 3.2 24v conversions (NOT 4 cylinder nasp cars) Testing at Castle Combe race circuit showed between 8 and 10 db reduction on drive by noise testing. We wouldn't recommend it for use with Turbocharged applications, as the race version is quiet enough when coupled to a turbo. The comfort silencer removes the distinctive rasp you get from a performance system when used on a naturally aspirated engine.
For reference, when coupled to an R32 conversion, the 2.5" performance system measures up to 102db when hot at Castle Combe race circuit on drive by testing, whereas the comfort back box measured 92db. It is available with the "single offset" tip option for lower model cars with the small cut-out rear valance and "Twin Slanty" for the large cut-out rear valance of the Gti models. If you want to order the comfort style silencer please contact us directly.
What you'll receive
Exhaust with two silencers (No downpipe)
Gasket and fixings to join the two halves together
Rubber hangers 
Additional bolt on hanger
If you are based anywhere outside mainland UK (Highlands, Islands and Ireland) please add the £10 shipping supplement to your order. Click here - Shipping Supplement
Customers who bought this product also bought: