 
R32 and 2.8 24v vr6 conversion downpipes
R32 Conversion downpipes for use with cars
using Mk3 style subframes.
We ship worldwide! Please contact us for a shipping quote if you are not on Mainland UK. 
R32 conversion downpipes designed for use with Mk4 style cast manifolds (part number 022253033M / 022253034M) in cars using a Mk3 Golf style subframe. You can use the manifolds listed above on the later Mk5 engines, with a bit of porting (These have better flow characteristics on a naturally aspirated engine than the later stubby cast manifolds)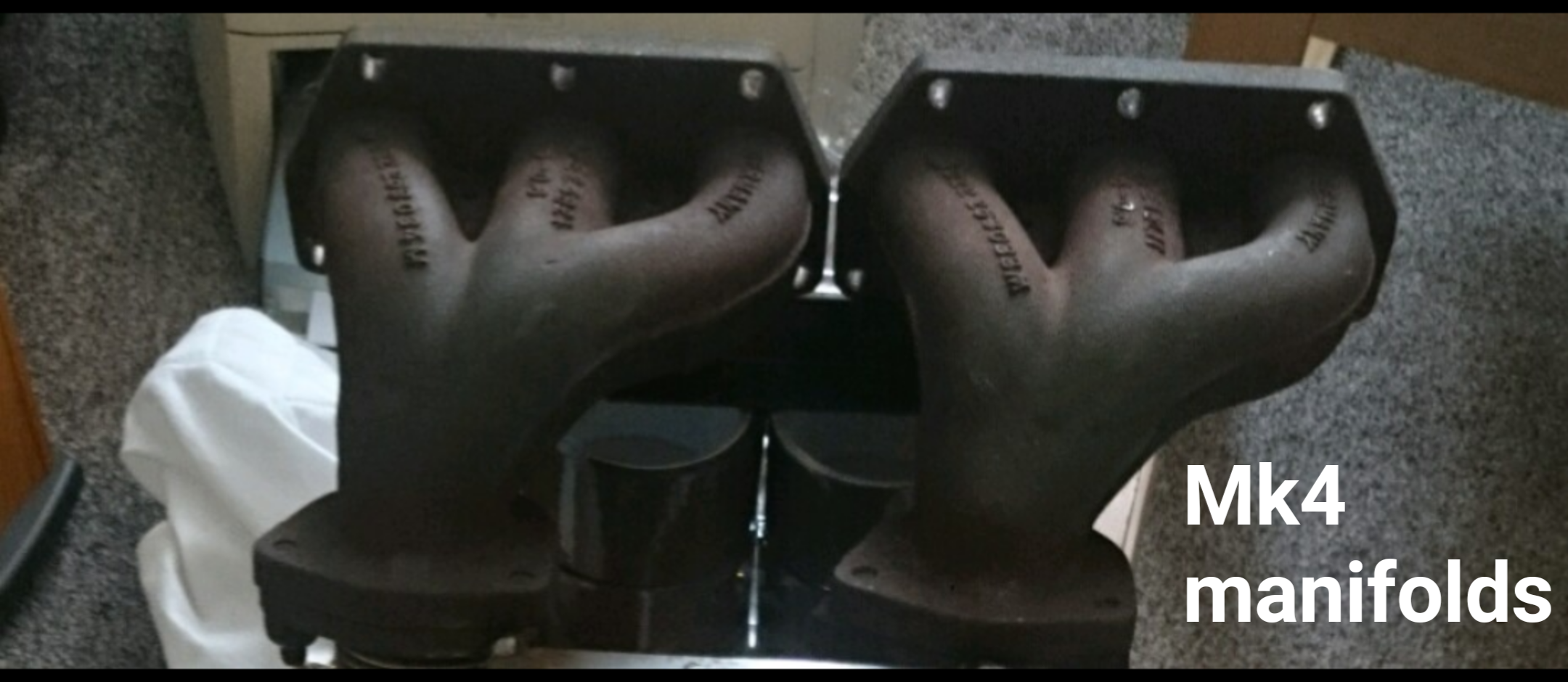 Using this downpipe with the mk4 style manifolds gives you as close to tubular headers as you can get, without the massive price tag!
These downpipes were designed and developed in a well known club member's Mk2 Golf, on a Mk3 style subframe, so they should be good for most cars using the Mk3 style subframe. Conversion specialist and motorsport prep company Hardwired Performance made sure that the engine and box were mounted in the right position, leaving us to worry about how to make the best of the space available for the downpipe.
FAQ's-
Q. What subframe and mounts were used when you made this downpipe?
A. Mk3 VR6 Subframe, Corrado (only) Vr6 Crossmember, Corrado/Mk3 VR6 engine and gearbox brackets, Corrado/VR6 engine mounts. Some people modify the rear engine mount to remove 10-15mm height from metal inner sleeve and perforated rubber inner bushing (this levels the engine in the bay and had been done to the car mentioned above)
Q. Will it fit if I use the MK2 Subframe?
A. If your chosen brackets and mounts replicate the positioning given by the advice written above, then yes it would. 
Q. Will this work with BUB, BHE, BPF, BUB engine codes?
A. Yes, but you will need to buy cast manifolds from a Mk4 and port them to match the head. This is a worthwhile thing to do as it gives you a much better arrangement.
Q. Does it have bosses for lambda sensors?
A. Yes. It has bosses for both primary lambda sensors. The secondary (post cat sensors) are usually written out of the software.
Customers who bought this product also bought: