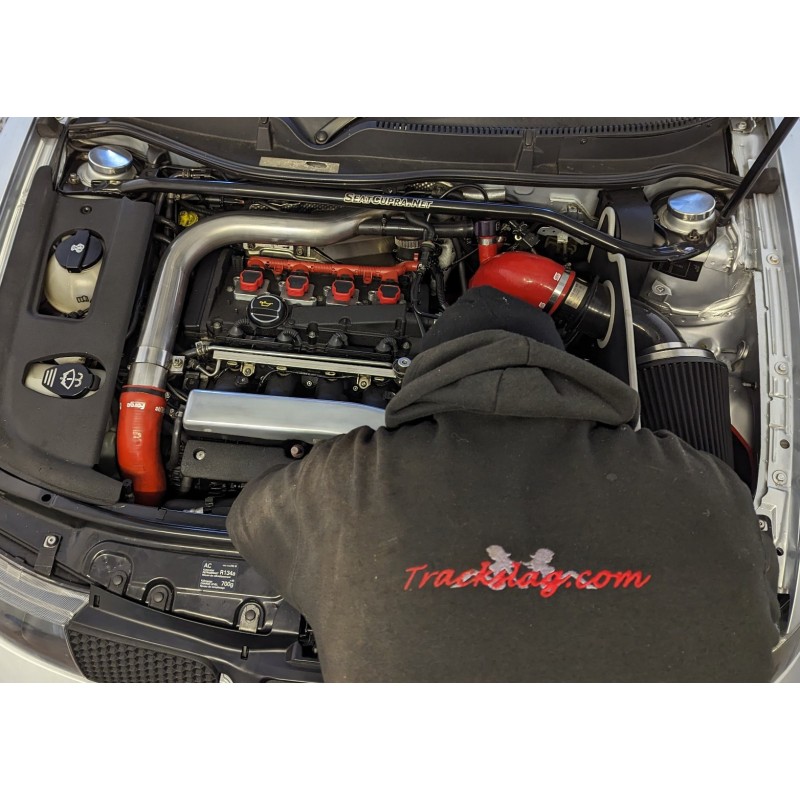  
K04 Charge pipe
K04 charge pipe.
**NOT IN STOCK. THIS MESSAGE WILL BE UPDATED WHEN WE HAVE A DATE TO SHARE**
Please log in and our website will calculate shipping for most regular destinations worldwide. If our website won't quote you for postage, please contact us for a shipping quote.
K04 Charge pipe to replace the L shaped pipe and red elbow which comes as standard on all BAM and AMK 210/225 bhp engine cars.
We designed the first version of these back in 2013. Since then, due to advances in machinery, we've re-worked it so we can make it from one continuous length of cnc mandrel bent pipe. We've also moved the spurs for the diverter valve and boost control (N75) closer to where they need to be, helping to tidy your engine bay even further.
Our charge pipe meets up with the turbo and does away with the red elbow (the one which frequently melts). It's made from larger diameter 63.5mm OD pipe (standard charge pipe and all other aftermarket charge pipes are 60MM OD) and has no baffles (the one's which people try to remove from the standard pipe). It doesn't have the large step inside the pipe, where the internal baffle would be on other pipes. It has a much smoother, longer bend in the middle and doesn't have the large dent on the underside (the dent that the standard pipe has for clearance over the cam-belt cover). To sum it up, we've removed all restrictions and made it more reliable.
Finish options explained-
Raw/Basic- Unpolished, straight off the machine with all tooling marks and no logo. Suitable for people who want to paint or polish their own.

Shiney- We won't be offering the polished/shiny/logo version unless we can get a consistent, reliable polisher locally. Unfortunately, there aren't enough hours in the day for us to do this in house anymore.

We recommend that everyone get them polished locally, so they can dictate the standard of finish required.
Twin spur or single?
Twin spur is the normal layout but some people may have done a coldside relocation and will know to order the single spur.
In short, twin spur = Dv and boost control (n75) in the normal position.

Single spur for coldside relocation modified cars = one spur for boost control (n75) The spur for the DV isn't there, as you will have moved it elsewhere when doing the relocation.
You will receive-
The charge pipe

Replacement stainless steel strap (x1)

Nomex lined turbo coupler in black

Nomex lined N75 and Diverter valve (if applicable) hoses in black, red or blue. 
*Additional Info* The operating temperature for the manifold and turbo is between 850 and 950 deg C. The working temperature of the Nomex liner on the coupler maxes out at around 250 deg C and the outer polyester layer maxes out at around 180 deg C. Using this information, it's clear that you'll need to shield your charge pipe and especially the coupler from the radiant heat of the manifold. Just how far you should go with heat shielding very much depends on your setup, power output and use. 
This is classed as a supporting modification and as with all supporting mods, it's all about the package, rather than the single item, so performance gains will vary, however reliability will be improved in all cases.
Customers who bought this product also bought: