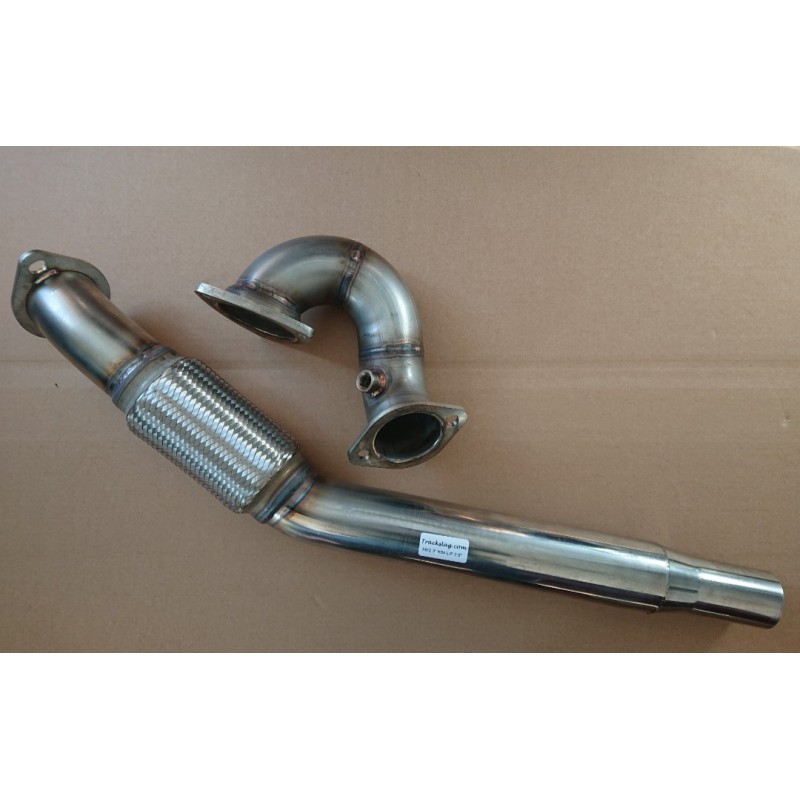  
3" K04 downpipe for Mk2, Mk3 Golf, Jetta, Corrado, Ibiza
3" K04 downpipe for 20vt MK2, MK3 Golf, Jetta, Corrado, Ibiza.
If you're an international customer, you'll need to log into the website for accurate pricing and shipping costs.
3" K04 downpipe for 20vt MK2, MK3 Golf, Jetta, Corrado, Ibiza. This is the downpipe you'll find on the current record breaking hybrid setup on an Ibiza, producing over 370bhp.
This downpipe fits best when using the mk3 style sub-frame, brackets and mounts (Which are also stronger) but still fits on the mk2 sub-frame with the correct brackets and adjustments. Unfortunately things like pattern mounts, many different brackets with only minor prefixes making big differences and reproduction front brackets for the mk2 subframe, can vary enough to be a problem with clearance when you're fitting  a 3" downpipe on something which was made for 1 and a half inch pipework. We know that we're stating the obvious here, but it has to be said.
Another proven setup for the Mk2 Subframe is to use Boost Fabrication brackets with Vibra Technics mounts.
Fitting this easy, as it's a two piece affair using two bolt flanges to join the two halves together. It's available as 3" from end to end for those with a full 3" system, or with a cone reducer on the back end taking it down to 2.5" making it easier to hook up to a 2.5" exhaust.
Comes with nuts, bolts and a two hole 3" gasket to join the two halves of our downpipe together.
If you need a turbo to downpipe gasket, click 

HERE!
For genuine 3 stud turbos only (NOT for aftermarket k04-001)
All fully mandrel bent in house from European sourced stainless steel. Quality assured.
We ship worldwide! Please contact us for a shipping quote.
Customers who bought this product also bought: